Home

/

Hot Melt Units - KUBE System
KUBE Melton-On-Demand Hot Melt Unit
The KUBE is a compact, melt-on-demand hot melt unit. Featuring an integrated auto-feed supply system, the KUBE
offers hands-free system operation for nearly any low to medium volume requirement. Suited for most common
packaging applications the KUBE is a modular design that allows it to be configured to any specific install need.
Energy efficient - melt only as needed
Clean - reduced adhesive char
Industry standard compatible
Up to 6 hoses/guns
User-friendly... easily connects to existing PLC or optional integrated control system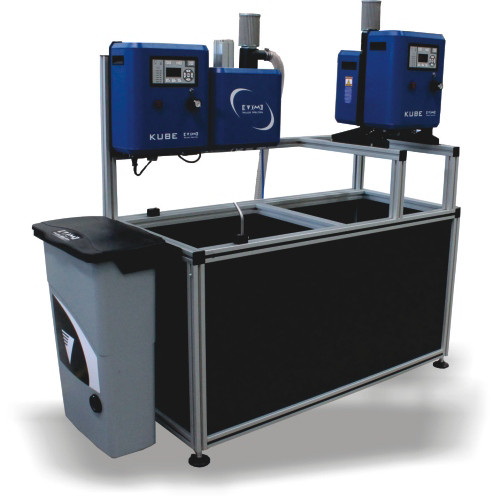 KUBE System Specifications

Melting Capacity:
8 - 12kg/hr (17.6-26.4 lbs/hr)
Max. Hydraulic Pressure:
1100Psi (80 Bar)
Pumping Capacity:
35kg/hr (77lbs/hr
Max. Viscosity:
30.000 cps
Electrial Power:
2000W
Max. Temperature:
204°C (425°F)
Max. Rate:
275kg/hr (600lbs/hr)
Estimated Air Consumption:
120L/min
KUBE System Dimensions

Panel Style

Compact Style

Split Style

Height

450mm (17.7in)
580mm (22.9in)
450mm (17.7in)

Length

770mm (30.3in)
280mm (11in)
380+480mm (15+18.9in)

Depth

250mm (9.9in)
550mm (21.7in)
250mm (9.9in)